There are lots of ways to analyze our DNA that can help us learn about where we come from.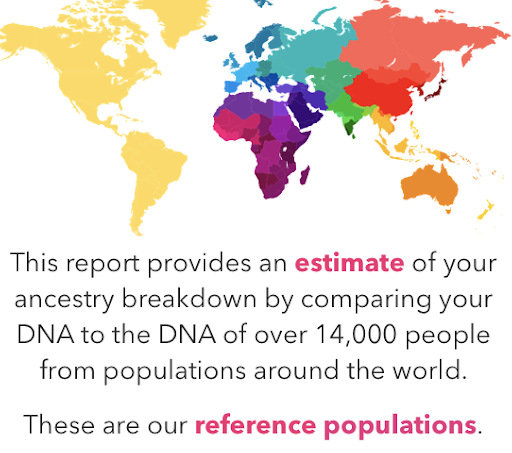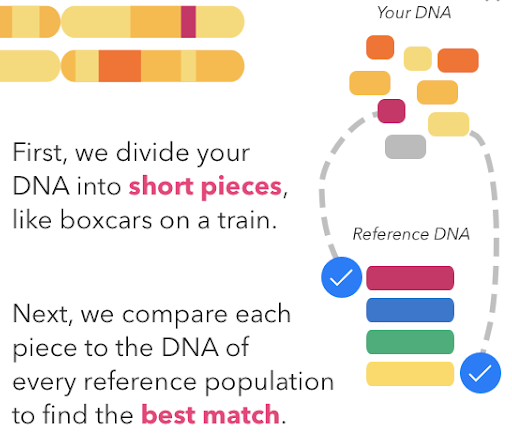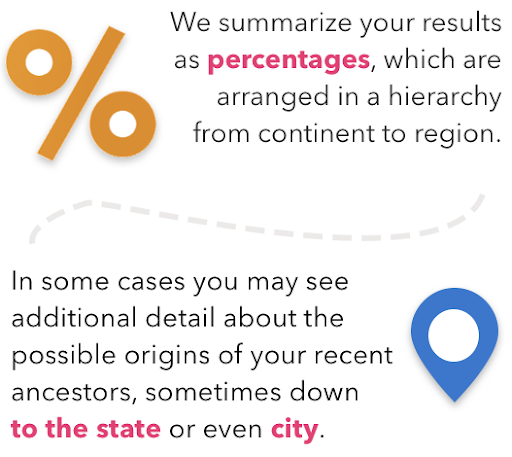 Ancestry Composition Percentages
Some of your 23andMe results can tell you how much of your DNA comes from different parts of the world. Those are your Ancestry Composition percentages, and they add up to 100%.
To provide these results to you, we divide your chromosomes into short pieces, like boxcars on a train. These pieces are short enough that it's generally fair to assume that the DNA they contain comes from the same ancestral population. And, for each of those pieces, we compare your DNA to the DNA of people whose ancestries we already know. These people comprise our reference populations.
When we find the most closely matching reference population for one of your DNA boxcars, we assign it that particular ancestry. These results are then tallied up and summarized to you as percentages in your Ancestry Composition report — 55% Indigenous American, 2% Japanese, and so on.
Genetic Group Assignments
You may notice additional results that don't have a percentage associated with them. These are your genetic groups. If you are assigned a match to a genetic group it means you likely share recent ancestors with people in that group. An assignment to a genetic group could reflect your connection to a recent ancestor or ancestors from a country (some genetic groups are based on geography), or it could mean you share a recent ancestor or ancestors with a group of people who belong to a particular ethnic group or speak a certain language (some genetic groups are based on a shared language or culture).
Remember, your genetic groups are not assigned to you as percentages. Instead, they are assigned at different confidence levels based on the number of individuals from that group with whom you share DNA as well as the total amount of DNA you share. You can have a highly likely match to a genetic group, a likely match, or a possible match.
To see the strength of your match to a genetic group, tap or click on the genetic group in your Ancestry Composition results, or view your detailed results view at the bottom of the scientific details page.
How to tell the difference between your ancestry percentages, your genetic groups, and your geographic subregions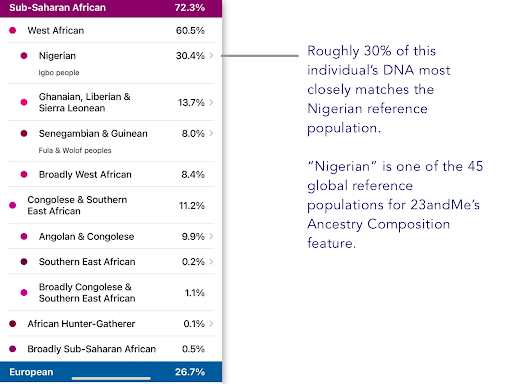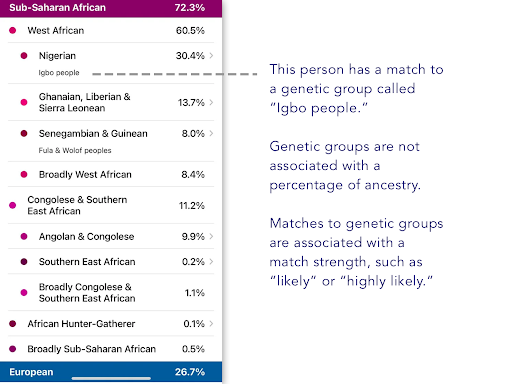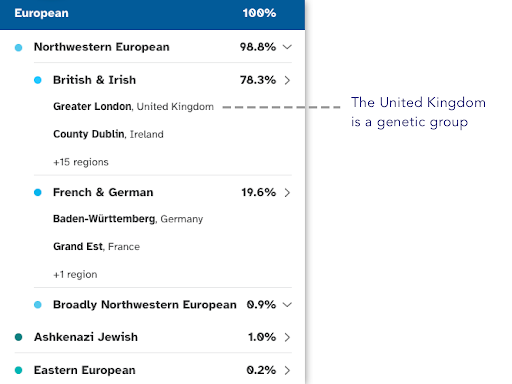 Understanding subregions of your genetic groups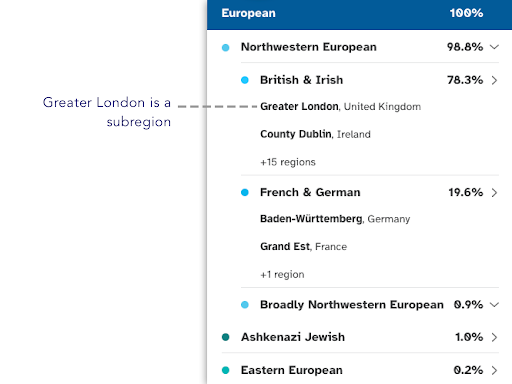 If you have a possible, likely, or highly likely match to a genetic group from a country such as the United Kingdom, we may be able to provide a further level of detail about where your recent ancestors from that country may have lived. As you're exploring your ancestry map in more detail, you may see shaded regions within a country or territory. These shaded subregions (which can be states, provinces, administrative regions, or other political divisions) are where we have found the strongest evidence of your family's recent ancestors. The stronger the evidence of ancestry, the darker the shading is for that subregion.
In this example, this customer has the strongest evidence of recent ancestors from the Greater London area, followed by Glasgow City, Greater Manchester, Merseyside, and so on.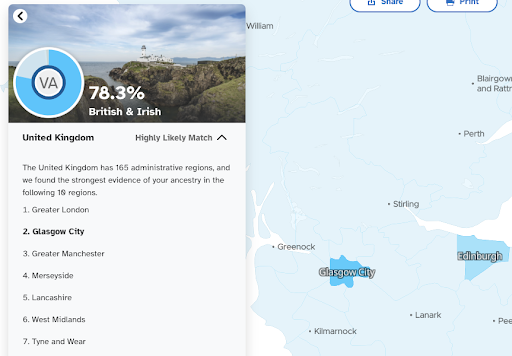 Some genetic groups do not have subregions.
At this time, genetic groups that are based solely on ethnic group affiliation or language affiliation do not have subregions.
In the example here, this customer has a likely match to a genetic group called the "Igbo people." The area in which individuals from this genetic group told us their ancestors lived is highlighted in your Ancestry Composition map, but it is not further subdivided into subregions.