23andMe® brings the world of genetics to you. The Personal Genome Service® is offered in over 50 countries. Once your saliva sample reaches our laboratory, results are typically available in your online account within 2-3 weeks.
23andMe analyses variations at specific positions in your genome. These variations, called SNPs (Single Nucleotide Polymorphisms), have the potential to tell you about your recent ancestry, the origins of your paternal lineage (males only) and maternal lineage, and even your Neanderthal ancestry.
Find out what your genetics say about your ancestry. By analysing your DNA, we can uncover information about your recent ancestry, the origins of your maternal lineage and paternal lineage (males only), and even your Neanderthal ancestry. Each Ancestry report looks at a unique aspect of your family story. You can learn more about how your DNA is used in our Ancestry reports, by selecting the different types of DNA:
Autosomal DNA (chromosomes 1–22)
X chromosome
Y chromosome (males only)
Mitochondrial DNA
In addition to our ancestry features, you also have the ability to browse and download your raw genotyped data.
Recent Ancestry
The majority of our ancestry features use your autosomal DNA and X chromosome DNA to tell you about your recent ancestry across all branches of your family tree. 23andMe provides several methods to help you explore your recent ancestry:
You can compare your DNA to that of other 23andMe users in the DNA Relatives feature and the Share and Compare feature.
You can view the comparison of your DNA to that of reference datasets in Ancestry Composition to learn about your geographic ancestry.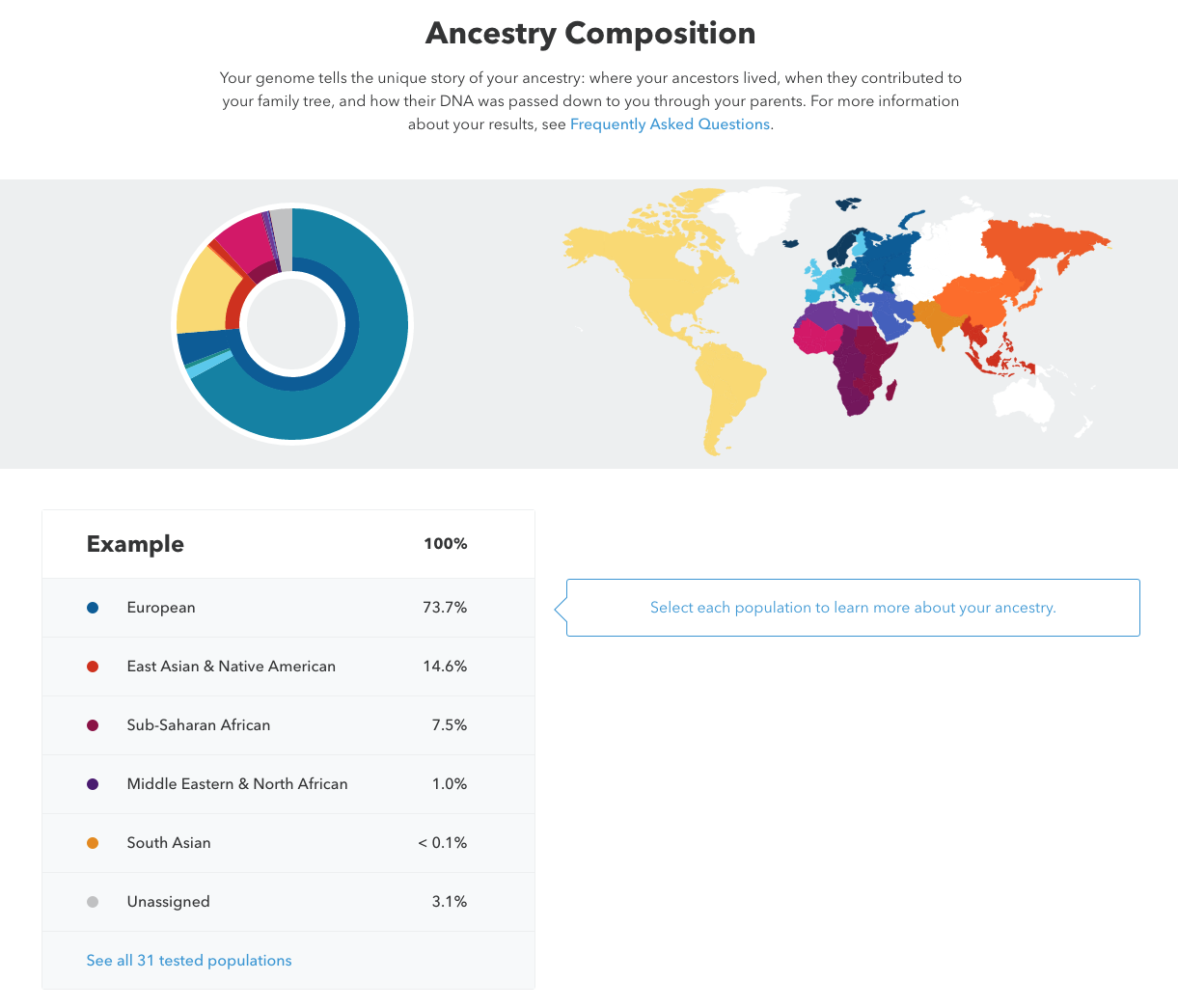 Maternal Lineage and Paternal Lineage Origins
Discover the origins of your matrilineal (your mother's mother's mother's) and patrilineal (your father's father's father's) ancestors and how they moved around the world over thousands of years in the Haplogroup reports. Haplogroups are assigned by finding the genetic variants that are unique to each group. These genetic variants typically originated tens of thousands of years ago. Women and men both receive the Maternal Haplogroup report based on their mitochondrial DNA; men also receive the Paternal Haplogroup* report based on their Y chromosomes.
*Paternal haplogroups are based on the Y chromosome, which females don't inherit. Women can learn about the origins of some of their ancestors from the paternal haplogroup assignment of male-line relatives, such as fathers, brothers, and paternal uncles. Please note that a woman's recent paternal ancestry is incorporated into the Ancestry Composition report.
Neanderthal Ancestry
Even though Neanderthals vanished about 40,000 years ago, their DNA lives on in us. Based on research, Neanderthals interbred with humans around 60,000 years ago and we are able to tell you how much of your ancestry can be traced back to Neanderthals. 23andMe's Neanderthal Ancestry report is based on SNPs located across all of your autosomes and your X chromosome.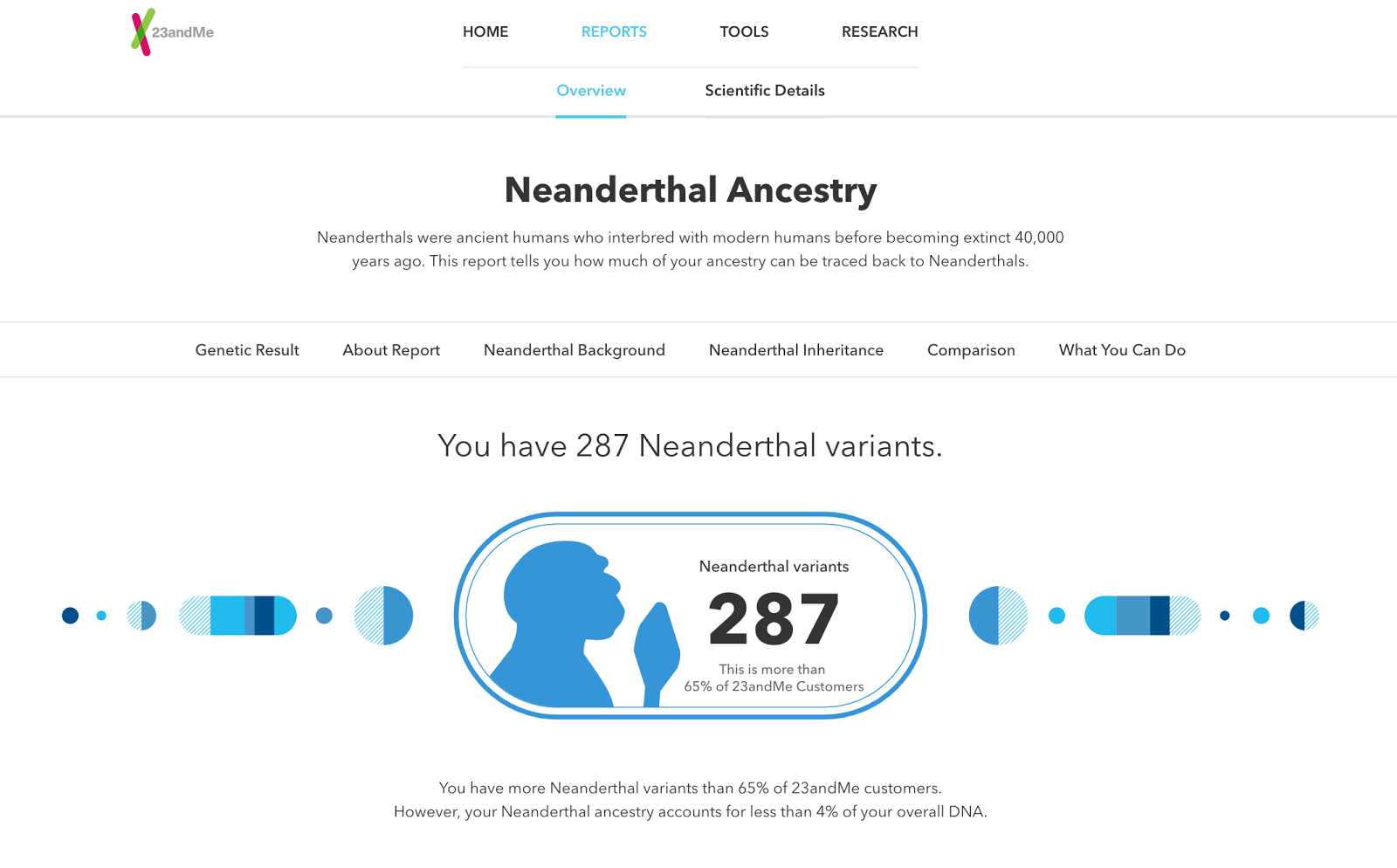 Your DNA Family
The 23andMe Your DNA Family report tells you about the diverse group of 23andMe customers who have DNA in common with you and how many of these DNA Relatives you have around the world. After viewing this report, you can connect with your genetic relatives in the DNA Relatives feature.